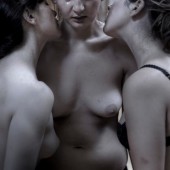 "Imitationofdeath" workshop
by Ricci/Forte
based on Chuck Palahniuk's novels
Festival Città delle 100 Scale – IV Edition – Potenza – July 2012
space/relation/body
promoters: B1799-Associazione Basilicata 1799, Ministry of Heritage and Culture, Basilicata Region, City of Potenza
Teatro Francesco Stabile
physical trainer: Marco Angelilli
Stefano Ricci and Gianni Forte's last workshop to select performers for their production "Imitationofdeath".
This phase was called "second desquamation" and it focused on personal obsessions, it included elements of the show they were preparing and their style which was defined as "poetic terrorism".
A flash-mob was also organized in the city centre with masks of animals and of superheroes.
11th of July: conference with theatre critic Rodolfo di Giammarco about the project