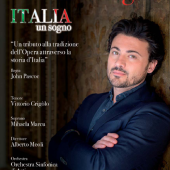 Italia. Un sogno
by & with Vittorio Grigolo
directed by John Pascoe
prod. City Sound & Events, Milan – Vittorio Quattrone
opening: Teatro Filarmonico, Verona, 10 Sept. 2016
Sept.-Oct. 2016 tour:
Teatro Fraschini, Pavia, 13 Sept.
Teatro Petruzzelli, Bari, 18 Sept.
Teatro Comunale, Bologna, 21 Sept.
Teatro Comunale Luciano Pavarotti, Modena, 24 Sept.
Teatro Goldoni, Livorno, 1 Oct.
Teatro Grande, Brescia, 5 Oct.
Teatro Rendano, Cosenza, 8 Oct.
singers cast: Vittorio Grigolo (tenor), Mihaela Marcu (soprano), Francesco Ciotola (tenor), Hersjana Matmuja (substitute soprano)
actors cast: Giuseppe Attanasio, Giuseppe Brancaccio, Paolo Cives, Luca Di Martino, Claudia Donzelli, Melania Fiore, Laura Locatelli, Anna Olkhovaya, Marta Ossoli, Stefania Santececca, Filippo Tabbi, Sofia Taglioni, Andrea Tibaldi
conductor: Alberto Meoli
Orchestra Sinfonica di Asti
chorus (differing in each venue) directed by Sonia Franzese
set and costume designer: John Pascoe
more than 200 costumes by Atelier Brancato, Milan
light designer: Alberto Negri
director's assistant: Marta Ossoli
battle scenes choreographer: Paolo Cives
Venice scene choreographer: Anna Olkhovaya
stage director: Gaetano Conato
production director: Antonio Quattrone
photos by Giovanni Daniotti
Venice ensemble scene photo by Eva Mulas
"A tribute to opera tradition through Italian history".
20 famous music pieces set in 20 different scenes of moments of the Italian history and art; Roman emperors, Renaissance, Venice culture, Italian unification process, World Wars, "dolce vita" icons, contemporary times and technology. A love story dream unifies the show, while the characters keep some of their connotations through the different epochs. 3D video installations complete the pictures, as the audience discovers new meanings and possibilities for renowned arias by Verdi, Donizetti, Puccini, Rondò Veneziano, Cilea, Respighi, Leoncavallo, to be performed in what is halfway between an opera and a musical. Battle scenes, seduction scenes, masks, slow motion, forward and rewind scenes for a cast of 16 actors and singers.